Gone Dog Walkin' offers individual services catering to what each client needs. Therefore these rates are the average rates we charge but may vary from job to job depending on the time spent with the pet(s), and the distance we will be driving.

Fees can be estimated over the phone. After the phone consultation we will come to your place for a free of charge visit to meet you and your pets and discuss exactly what you would like done. At that time we can come up with the rate and go over the paper work for you to sign.

OFF LEASH WALKS – One hour = $25
(+ $17 for each additional dog)
There are two off leash dog parks in the areas we serve. If your dog gets along well with other dogs and has good voice command to come when called and will stay with the pack then this is a fun service we offer. Sometimes we go to nearby trails rather than the dog park, if you worry your dog might take off then we can keep him/her on a leash and they will still get a good amount of exercise.

One of the dog parks we use is fully fenced in for those dogs that don't like to listen as well but do still need to be able to be kept under control. We usually walk at least one hour but depending on the activity level they might get a longer walk. We will match up the groups so the older less active dogs will walk separately from the younger more active dogs. All dogs going in a group setting must be spayed/neutered (unless they are less then one year of age) and must be healthy with no contagious diseases within the past six weeks.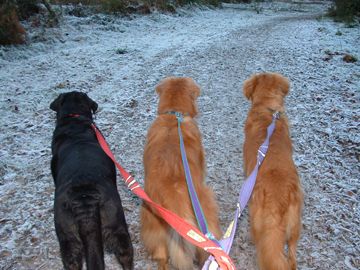 LEASHED WALKS – 30 minutes = $24
(+ $8 for each additional dog walked at same time)
This service is offered for people who have dogs that either don't do so well with other dogs or just can't be trusted off leash. When walking on a leash they must have good walking manners or else we may try using a gentle leader on them to help control pulling.

We can walk them for 15 minutes to one hour on leash depending on how much exercise you would like them to get.


POTTY BREAKS - 15 minutes = $20
If you are gone at work or just have a long busy day scheduled and would like your pooch to get out for a potty break we can stop by to do this. If you have a backyard you want them to be let out in for five or ten minutes then we can do that or take them for a quick-leashed walk.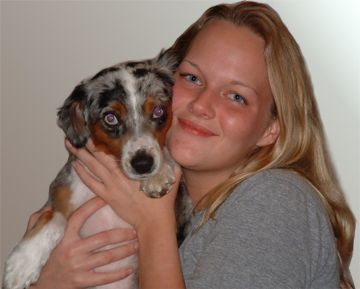 PET SITTING
one half-hour visit = $27 -OR- two half hour visits = $49
-OR- three half hour visits = $68
Each forty five minute visit instead of half hour add $10

If you are going out of town and want your pets to feel more comfortable by staying in their own environment than this is the way to go. We will come to your house one to three times a day depending on what needs to be done. Usually if you have a cat or any animal other than a dog then one or two visits is adequate. If you have a dog then two or three visits will be needed.

We can change litter boxes, scoop poop, feed and water, water plants indoor and out, bring in the mail and newspaper, turn lights on and off to make it appear as if someone is home as well as open/shut blinds. We will always give lots of love and treats. Your animals will be treated as we treat our own pets and can even brush them to keep them company.

We are not able to do any over night visits, our own animals would not be very happy with us for not coming home. We don't charge extra for giving medication or anything listed above, prices will vary depending on how much time is spent at your house and the travel time to get there.




Contact Jamie to schedule a consultation at 425-890-3826